Dynamic Boardrails Checkout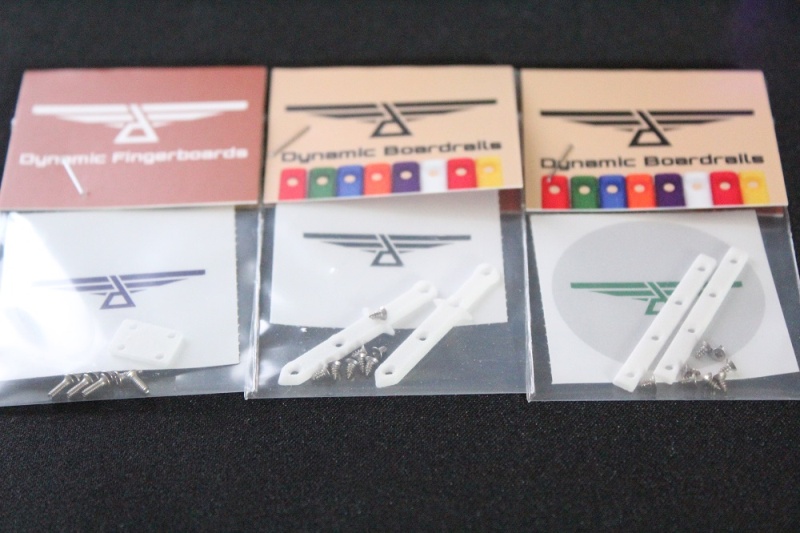 Today I'm a little bummed out, due to the day that it is and my location being significantly further away from Bavaria than I'd have liked. But, many things happen in life, and as often is the case if one thing goes wrong, something will come along that'll bring balance.

I got a rad package in the mail from Dynamicfb! The makers of the super hyped screw in boardrails, I bought a couple sets and got a free set of riser pads - huge thanks to Dynamic for hooking me up. I'll be doing a full review of these in the coming weeks, but for now my first impressions are here.
"It's definitely worth the effort it takes, just don't expect a quick setup"
Firstly, these are awesome, but do NOT expect setup to be easy. And not because there's anything wrong with the product, but because screwing tiny screws into wood is hard enough, but when decks are already lacquered? If you don't have a tool to mark the holes (like a screwdriver but it's just a pointy thing, I have no idea what they're called) this will not be easy. It's definitely worth the effort it takes, just don't expect a quick setup.
Now they're on, I LOVE these. I'm a fan of the single boardrail look as you can see, but these are crazily well made, I cant see any imperfections on them and they both look identical. They do seem like they need a bit of wearing in, but in a way they have a super organic feel, and add an element of realism to your setup. Well worth grabbing a set.
Again huge thanks to Dynamic, you can check their site
:)

Posted on 28th May 2016 at 08:27 by Kerry.
.